Adirondack Museums .com is the premier online guide to museums, culture and historical sites in Upstate New York and the Adirondacks showcasing hundreds of exciting attractions throughout the Adirondacks, Capital/Saratoga region, Catskills, Central Leatherstocking region, Chautauqua/Allegheny, the Finger Lakes, Greater Niagara, Hudson Valley and the Thousand Island/Seaway Regions. We invite you to take a virtual tour of some of our most popular travel destinations including the historic cities of Saratoga Springs, Glens Falls , Lake George, the Lake Champlain Valley
Region, Lake Placid ,Saranac Lake and the High Peaks Region , Old Forge and the Tug Hill Plateau, St. Lawrence Seaway and the 1000 islands and Lake Ontario. Upstate New York is ideally located within easy driving distance of

major metropolitian areas including New York City, Philadelphia, New Jersey as well as Montreal, Canada and Burlington, Vermont. Upstate New York offers visitors a rich variety of historic, artistic, and cultural attractions ranging from the 1932 and 1980 Olympic venues in Lake Placid to the historic Saratoga Springs Racetrack, and the famous Baseball Hall of Fame in Cooperstown.
Adirondack Museums
The history of the Adirondacks has been shaped and influenced by many powerful forces. Logging, mining, farming, tourism and even medicine have all played a major role in the development of the region. In the early 1800's, towns like St. Regis, Paul Smiths and Old Forge sprang up taking advantage of the huge timber resources and iron ore deposits. In the central Adirondacks, pioneers cleared the large tracts of land for farming creating the first settlements. And beginning in the late nineteenth century, the Adirondacks became a popular destination for the rich and famous. Known as the "Gilded Age", this period is famous for the construction of huge rustic compounds called Great Camps. We invite you to learn more about the history of the Adirondacks by visiting the many museums and historic sites.

Popular Adirondack Museums

Tupper Lake: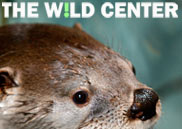 Natural History Museum of the Adirondacks
THE WILD CENTER
518-359-7800
866-765-7800 Tupper Lake
The Wild Center is open! You can experience the Wild Walk! A trail across the treetops. Please join us to get immersed in your wild world.
There are swimming otters, terrific engaging exhibits and plenty to explore outside and inside at the Center. The award-winning Center houses great exhibits including live exhibits and multi-media shows. You can explore the 31- acre campus on marked trails. There are theaters with high definition films, plenty of hands-on activities and hundreds of live animals from rare native trout, to porcupines, hawks, and many other often hard-to-see residents of the woods and waters
The Wall Street Journal called it 'glorious' and the New York Times said it was 'stunning' . This new kind of museum, spread over 31 acres, is an Adirondack 'must see' according to USA Today. Designed by the firm that created Washington DC's Air and Space Museum, the Center features live exhibits, including splashing river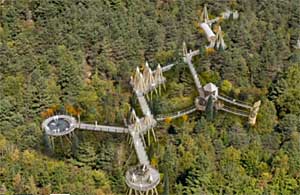 otters, a wide screen theater and tons of hands on exhibits.
This is a museum where the wild world of the Adirondacks opens right before your eyes. This interactive museum opened its doors in 2006. The Wild Center will let you experience the Adirondacks in ways you never thought possible. Take a tour, check out our living exhibits. Admission fee.The Wild Center has exhibits indoors and out. The Wild Center has exhibits indoors and out. The Museum's collection is not stored in vaults; it spreads across all six million acres of the Adirondacks. The Wild Center is a place to explore that living breathing collection.

The indoor Hall of the Adirondacks houses the Living River Trail and its live exhibits, including the otters at Otter Falls. The trail takes you on a journey from the marsh, past a deep lake, past a bog and forests up a river filled with trout to the summit of an alpine peak where you can touch a cloud. Along the way there's a wealth of information about the nature of the wild Adirondacks.
You can sit down in the Find Out Forest, filled with high definition media screens where you choose where to go and what to watch. You can journey up to the top of the mountains with a cloud catcher or track an immigrant moose or raft down the Hudson Gorges. There's a world of ideas here that you can explore in the company of engaging scientists.
Travel from the hall of the Adirondacks into the Big Wolf Great Hall to see the Glacial Ice Wall and its moving story of the formation of the modern Adirondacks. Here you can see daily Animal Encounters and meet owls and other members of the Wild Center's living collection.
You can also relax in the Naturalists Cabinet with its collections and bird viewing area.

Hours of operation:

Summer & Fall
Memorial Day (last Monday in May) - Labor Day (first Monday in September) - 10 am - 6 pm, 7 days a week
Labor Day (first Monday in September) to October 28th - 10 am - 5 pm, 7 days a week
Winter & Spring
We're open every Friday, Saturday and Sunday 10 am to 5 pm all winter. Plus all Presidents' Week and Martin Luther King Day. (Closed month of April for exhibit installations.)
*Open Presidents' Week and Martin Luther King Day
*Closed Thanksgiving Day, Christmas Day and New Year's Day
*Special Holiday Hours - December 26 - December 31 - 10 am -5 pm
*Closed month of April for exhibit installations



Blue Mountain Lake: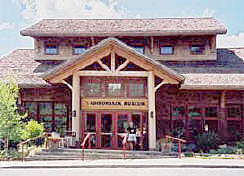 Adirondack Museum
Route 30, Blue Mountain Lake, NY 12812
(518)352-7311
A complete museum complex with an emphasis on the Adirondack mountains. Exhibits are both indoors and outdoors. The complex is located on the slopes of Blue Mountain, overlooking Blue Mountain Lake. Open Memorial Day through Columbus Day, 9:30AM-5:30PM. Handicap accessible. Admission fee.


ADIRONDACK PHOTOGRAPHER SHOWCASE
Carl Heilman II
Outdoor photographer Carl Heilman II has lived in the Adirondacks in upstate New York since he moved to the region in 1973 to live in his parents' summer home. Carl Heilman II has been photographing the Adirondack wilderness landscape since 1975, working to capture on film both the grandeur of these special places, and the emotional and spiritual connection he has felt as well.


Adirondack Vistas
Calendar

Beautiful Lake George
Calendar

Adirondack Calendars - The Perfect Gift
By photographer- Carl Heilman
Click here

Carl Heilman's passion for spending as much time as possible in some of the wildest regions of the Adirondack Park, soon became a life-long quest to create images that record the essence of a true wilderness experience. Today Carl is a full time professional nature photographer.His photographs and panoramas are also available as posters, murals, and special edition prints. His selection of Adirondack posters includes a pair of panoramic posters that show the full 360° view from the summit of Mt. Marcy, and a panoramic image of the spectacular fall foliage and the High Peaks from Mt. Van Hoevenberg. Each winter, as a NYS licensed guide, he leads backcountry snowshoeing workshops at the Mountainfest in Keene Valley, and has lead them for the Adirondack Mountain Club at the Adirondak Loj near Lake Placid, Click here for more information on Adirondack Artist Carl Heilman.

Worried About Losing your Job?
Our goal is to help make your life recession proof!
We have put together a directory of resources to help you navigate around the gathering storm on the economic horizon. There is job security if you have the skills and services people need. Avoid managerial jobs in retail sectors or construction-related jobs that could possibly feel the pinch when cash gets tight.

Search for two- & four-year degrees in Culinary Arts & Baking
Side-by-side comparisons of 35 culinary schools.
Learn the culinary skills you need to get ahead!

Culinary Institutes .com
click here
Online Criminal Justice Degrees

Earn a degree in criminal justice or security online in your free time.
Search for the perfect online program to suit your
lifestyle & time constraints. Criminal Justice, Public Safety, Info Security, Homeland Security and more.

Lake Placid:

John Browns Farm State Historic Site John Brown Road
Lake Placid, NY 12946
518-523-3900
Web Site: http://www.nysparks.com
Tour the last home and burial site of the famed abolitionist. Open year-round, Wednesday through Saturday, 10am-5pm; Sunday 1-5pm.Fee: $2.00 Adults, $1.00 12years and under, Buses $50.

Olympic Center and 1932 & 1980 Lake Placid Winter Olympic Museum
2634 Main Street Lake Placid, NY 12946
518-523-1655 800-462-6236 .
Lake Placid North Elba Historical Society Museum
Averyville Road, Lake Placid, NY 12946
(518)523-1608
Memorabilia from 1932 Olympics and other sporting equipment. Exhibits housed in former NY Central Railroad terminal. Open Jun-Sep, Tu-Su 1-5PM. Free admission

Tupper Lake

Natural History Museum of the Adirondacks THE WILD CENTER
518-359-7800 866-765-7800 Tupper Lake
This museum is where the wild world of the Adirondacks opens right before your eyes. Take a tour, check out our living exhibits, and find out how you can join for the opening year. You can start enjoying this engaging new center of an amazing world. You can experience the Wild Walk! A trail across the treetops.

Goff-Nelson Memorial Library
41 Lake Street, Tupper Lake, NY 12986
(518)359-9421
Art exhibits, crafts and quilt shows. Open year round, Mon-Thurs 10AM-5:30PM, 7-9PM, Fri 10AM-5:30PM (closed holidays). Free admission.

Paul Smiths & Newcomb

Visitor Interpretive Center in Paul Smiths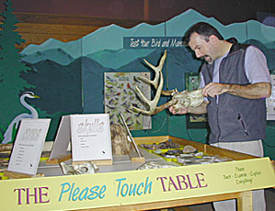 TheVisitor Interpretive Center in Paul Smiths .Open year-round, the facilities serve the 6 million-acre Park as environmental education and traveler orientation centers.
Interpretive Trails
facility offer miles of scenic, surfaced trails that feature signage explaining the local ecology. Winter in Paul Smiths sees the system adapted for cross-country skiing,
Exhibits
Indoor exhibits on natural history are complemented by regular showings of
multi-image presentations on the park. Youngsters will find "touch tables,"
games and puzzles to spark their interest in the regions's animals, insects and plants.

Bolton Landing:
Bolton Historical Society Museum
Lake Shore Drive, Route 9N, Bolton Landing, NY 12814
(518)644-9960
Local artifacts, photographs and antiques. Open Jul-Aug, M-Sa noon-5PM, M-F 7-9PM. Handicap accessible. Free admission.

Chazy:
Alice T. Miner Colonial Collection
Route 9, Chazy, NY
(518)846-7336
Exhibits include Early American artifacts. Museum is housed in period building (circa 1824). Open Tuesday - Saturday, 10AM - 4PM). Free admission.

Croghan:
American Maple Museum
Main Street, Croghan, NY 13327
(315)346-1107 (800)724-1242
Museum includes the Maple Hall of Fame. Open June through Columbus Day; Mon,Fri,Sat 11AM-4PM (Additional hours of operation during tourist season: Jul&Aug, Mon-Sat 11AM-4PM. Admission fee.

Crown Point:
Penfield Museum
Route 74, Crown Point, NY 12928
(518)597-3804
Local history and iron industry. Open mid-May through mid-Oct, daily 9AM-4PM. Free admission.

Elizabethtown:
Adirondack Center Museum
Route 9, Elizabethtown, NY 12932
(518)873-6466
Exhibits include displays on early settlement of region. Open mid-May through mid-October, Mon-Sat 9:00AM-5:00PM, Sun 1:00PM-5:00PM. Handicap accessible. Admission fee.




Visit

Christmas Wreath.com

Search and compare the lowest prices for fresh balsam wreaths & hand crafted gifts from all over the country!

Free shipping & toll free ordering!

Click here

Visit

Cheap Gift Baskets.com

Treat that special person to a lovely gift basket for any occasion! Get the lowest prices on the web and search a huge selection of gourmet gift baskets with cheese, wine & chocolate!

Enjoy toll free ordering & free shipping!

Click here

Glens Falls:
Chapman Historical Museum
348 Glen Street, Glens Falls, NY 12801
(518)793-2826 (518)793-2831(fax)
ContactUs@ChapmanMuseum.org
Exhibits on southern Adirondack area, featuring Seneca Ray Stoddard photographs. Museum located in restored Victorian home. Gift shop. Open year round, Tuesday through Saturday, noon - 5:00PM (closed holidays). Handicap accessible.

The Hyde Collection Art Museum
161 Warren Street, Glens Falls, NY 12801
(518)792-1761
A world-class permanent collection that spans the history of Western art. An extraordinary variety of works by masters such as da Vinci, Rubens, Rembrandt, Cézanne, Renoir, van Gogh, Picasso, Whistler, Eakins and Homer cover the walls of historic Hyde House, a 1912 Renaissance-style villa. In addition, the Museum presents year round temporary exhibitions in three gallery spaces and a Museum Shop. Hours: Tues. - Saturday: 10 am - 5 pm; Thurs. til 7 pm. Sunday noon - 5 pm

Jay:
Youngs Studio & Gallery
Route 86 in Jay NY
RR 1 Box 198, Jay, NY 12941
(800)842-1072
Our Gallery represents over 70 local and regional artisans as well as showcasing the work of the owners, Sue and Terrance Young. Sue is a well know potter and sculptor and Terrance is an award winning artist in oil, pencil and original hand pulled etchings of the Adirondack Region. Open June - Dec Open Daily 10 - 5 / Jan - May Open Tues - Sat 10-5,

Keene Valley:
John Hudson's Adirondack Studio
HCR1, Box 193, Keene Valley, NY 12943
(518)576-2019
jhudson@artlover.com
Fine art and craft studio and gallery. Features original oil paintings by Adirondack Artist John Hudson, Crafts by Shirley Hudson., as well as a line of Limited Edition signed prints. Open year round, by appointment, or watch for our outdoor gallery listings.

Lyons Falls:
Lewis County Historical Society/Gould Mansion
High Street, Lyons Falls, NY 13368
(315)348-8089
Exhibits featuring local (Lewis County) artifacts. Museum housed in Romanesque mansion (circa 1902). Open June through mid-October, Tue-Sat 10:00AM - 4PM (closed holidays).

Malone:
Franklin County Historical and Museum Society
51 Milwaukee St., Malone, NY 12953
(518)483-2750
Exhibit includes antique maps, country store, and furniture. Open Jun-Labor Day, Tu-Sa 1-5PM; rest of year Sa 1-4PM. Handicap accessible. Donation requested.

Old Forge:
Arts Center
Route 28, Old Forge, NY 13420
(315)369-6411
A complete art center, featuring exhibits, workshops, lectures, etc. Open year round, daily 10:00AM - 4:00PM (closed holidays). Admission fee.

Forest Industries Exhibit Hall
Route 28, Old Forge, NY 13420
(315)369-3078
Exhibits of forest and wildlife management. Open Memorial Day through Oct, MWSa 10AM-5PM, Su noon-5PM (Sept-Oct weekends only). Handicap accessible. Free admission.

Webb Historical Association
Off Route 28
Crosby Boulevard, Old Forge, NY 13420
(315)369-3838
Artifacts of early Adirondacks. Open May-Sep, TuWF 10AM-4PM, Oct-Apr 1-4PM. Free admission.

Saranac Lake:
Charles Dickert Memorial Collection
100 Main Street, Saranac Lake, NY
(518)891-4190
pineconio@yahoo.com
Collection of works by master Taxidermist Charles Dickert, who practiced his craft in Saranac Lake in the early 1900's. His talent for mounting game in lifelike poses makes these animals seem to be alive today. The Museum is located in the Saranac Lake Free Library. Open July 4 through Labor Day, Monday through Friday 10am - 4 pm.

Ticonderoga:
Hancock House
Moses Circle, Ticonderoga, NY 12883
(518)585-7868
Replica of the Hancock house in Boston, Massachusetts. Museum includes research library. Open year round, Wed-Sat 10:00AM - 4:00PM; additional tourist season hours July through mid-October, Mon-Sat 10:00AM - 4:00PM. Handicap accessible. Free admission.

Ticonderoga Heritage Museum
Montcalm Street, Ticonderoga, NY 12883
(518)585-2696
Gallery of local artists. Children's workshops. Open Jun 29-Labor Day 10AM-4PM (Memorial Day - Columbus Day weekends only). Handicap accessible. Donation requested.
Fort Ticonderoga
May10 - October 23, 2005 Fort Ti Road Ticonderoga, NY 12883 518-585-2821

Have you ever thought about publishing your very own book about Museums in the Adirondacks?

You Have The Talent, We Have The Resources!
Book Publishers.com



Are you an author looking to publish your masterpiece? BookPublishers.com could connect talented writers like you with willing book publishers. For many talented authors, the most difficult obstacle isn't writer's block—it's finding a receptive publisher to publish their books. Because publishers have to sift through so many works, they may dismiss some unfairly, or be so short-staffed that they don't have the time to give each manuscript its fair consideration.
Book Publishers.com
click here
For those who decide that finding a publisher isn't the right choice for them, self-publishing can be a great alternative. With self-publishing a writer can maintain editorial control, as well as keep all proceeds from the book sales. Whatever your preference, BookPublishers.com wants to help you on your journey to become a published author! You have the talent, we have the resources.
click here for more information

Broadway Theater TicketsView an online seating chart, & choose different seat locations & prices to Broadway plays and musicals. Specializing in sold-out, hard-to-find & last-minute theater tickets.
click here
The Adirondacks.com Travel Network and The Adirondack Museum in Blue Mt. Lake create a unique online partnership to showcase the rich history of the Adirondacks.
The Adirondack Museum has been called "the best of its kind in the world," by The New York Times.
"I am delighted that Adirondacks.com and the Adirondack Museum are working together to let people know about the great cultural diversity the Adirondacks have to offer." Ann Carroll Director of Public Affairs for The Adirondack Museum in Blue Mt. Lake.


Ann Caroll, Director of Public Affairs Adirondack Museum with Rob Grant (right) President, Adirondacks.com
Click here for the Adirondack Museum's website.
The Adirondacks.com Travel Network and the Adirondack Park Visitor Interpretive Centers announce new internet partnership designed to showcase the visitor centers in Paul Smiths and Newcomb. Click here for more information

We invite you to visit our Adirondack Gallery showcasing unique Adirondack Furniture ~ Antler Chandeliers & Lamps ~ Hand Painted Canoe Paddles

~

Adirondack Packbaskets ~ Adirondack Prints ~ Authentic Birch Bark Framing ~ and beautiful hand crafted gifts. Click here! We also offer interior design services for Adirondack
style camps & homes.

Birchbark Picture Frames

Antler Chandeliers

Snowshoe Lamps

Hand Painted Canoe Paddles



Adirondack Museums .com
43 Broadway
Saranac Lake, New York 12983
Phone: 518-891-3745 Fax: 518-891-3768
E-Mail: robgrant@northnet.org